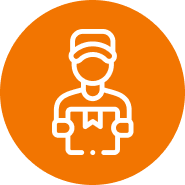 Quickshift UK was built on two guiding principles: customer service and expertise. With over 36 years in business, we are truly your transport, courier, and shipping experts. We have built connections across the globe that make us the number one courier choice for companies both large and small.
Our Mission
From the beginning our mission has always been to provide top-quality courier service that is competitively priced. Our large fleet of lorries and vans can accommodate any logistical requirements, and we make sure you can trust our service by providing vehicle tracking, delivery signatures, and real-time delivery notifications via email.

Our Customers
Personal service is just as important for us as it is for our customers. We want to make sure our customers are put at ease when we are transporting their parcels. Our experienced customer service team is available to our clients whenever you need them. Give us a call and you'll always get personal service, not a machine, or send us an email and we'll be back to you in ten minutes or less within working hours.

Our Service
To use our services please give us a call or request a quote today. Our customer service team will give you an accurate quote, help ensure you get the right vehicle for your needs, and inform you of your expected delivery time.

For repeat customers, our online booking system makes it easy to start a new shipment, track your parcels, and receive your proof of delivery notifications.

To ensure we're meeting your needs, it is our policy to check in on our service and encourage feedback. Don't compromise or risk your urgent deliveries with just anyone. Come to the courier with the track record for excellence.

Ready to get your parcel delivered?